Through Charlie's ants, young readers learn that God became man to die for us. Great salvation message!
A story about a little boy and the three sexy ants he sends out on missions of espionage and intrigue.
Actually, this is yet another cartoony, oversimplified (even more so than the adult-oriented ones) one aimed at kids. Get 'em while they're young! Nip their independent and rational thought in the bud, before it gets a chance to blossom!
It's also yet another failed attempt at a metaphor for God, and is just plain fucking silly in general.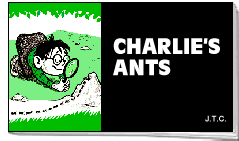 Continue reading →